Honest to Goodness
© 2023 Six Degrees Publishing Group Inc.

WHAT READERS HAVE TO SAY . . .
Spirituality/Enlightenment
Metaphysical/ Visionary
ISBN: 978-1-942497-17-2
ISBN 10: 1942497172
Ebook: 978-1-942497-18-9



"Books that transcend the ordinary."
Finding the Kingdom Within: Awakening to Eternity
ABOUT THIS BOOK
With his popular first book . . .
Finding the Kingdom Within: Awakening to Eternity
"Seek ye first the Kingdom . . ."
Brian Longhurst opened the door for us to acceptance of the reality and accessibility of the eternity that is Heaven, the Loving and benign care, guidance and protection that is freely available to us all - here and now - from There. Now,
takes us deeper into Its ever-present Joy, Peace and Love, Sharing and showing the ease with which we can be restored to awareness - remembrance and experience - of the Truth of our eternal, limitless, radiant Being: The God-Self within.
AUTHOR INFORMATION:
"Brian's new book, Finding the Kingdom Within, is an inspiration for the emerging New Reality. This latest masterpiece brings an abundance of helpful, healing words from The Prince of Peace himself to assist you in waking to your true spiritual potential."
–Owen K Waters, Spiritual Dynamics Academy.

"Finding the Kingdom Within is a truly inspired masterpiece. As I read it I can feel my 'third' eye expanding and pulsating. I can tell that it is having a deep effect on me.
In a sheer act of love and devotion to the Son of God, Brian has offered to the world two books, Seek Ye First the Kingdom and, now, Finding the Kingdom Within that act as a catalyst for the Awakening of the slumbering Son of God to His Eternal Truth, and a profoundly different way of looking at the world." –Rev. Julie Gillespie, Houston, Texas
.
Product Details
Imprint: Six Degrees Publishing Group
Size: 6"x9" (229 x 152mm)
Perfect Bound
Pages: 340
Distribution: Ingram Content
"I love Brian's writing style. It is very clear and poetically in-touch and in-tune with the Divine. The Inner Voice messages Brian shares here are extremely lucid, as though one is seeing from a higher dimension – indeed, from the perspective and authority of Eternity. He speaks endearingly of the Healed Mind of Papa's beloved Son. That would be you and me – Jesus, Brian and all of us together as One Holy, Healed Mind." –Jon Mundy, Ph.D., author of Eternal Life and A Course in Miracles.





Brian Longhurst is an extraordinary and profoundly uplifting author, teacher and illuminary, who has an enduring, personal relationship with Jesus. He's an avid student of A Course in Miracles and this book includes references to ACIM text as well as Brian's personal stories. You can find more of his writings on his web site: Honest2Goodness.org.uk, where he shares his "Messages of Encouragement" and "Diary of a Christ Communicant."
MORE BOOKS IN BRIAN LONGHURST'S "KINGDOM SERIES"
"Seek ye First the Kingdom..."
One man's journey with the living Jesus
(Book I)

Entering the Kingdom Within
The Return to Reality
(Book 3)

(Book 4)
Living From the Kingdom Within:
Remembering Our One Identity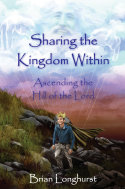 (Book 5)
Sharing the Kingdom Within
Ascending the Hill of the Lord

BOOK 2 OF THE 'KINGDOM SERIES' BY BRIAN LONGHURST
(Book 6)
Extending the Kingdom Within:
Remembering Our One Identity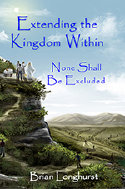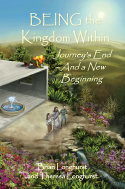 (Book 7)
BEING the Kingdom Within:
Journey's End ~ And a New Beginning