ABOUT JOURNAL OF A COUNTRY PRIEST
There is a small town off the central coast of California. Homes, businesses and a university are nestled between mountains. When you drive about you see cattle, vineyards, horses and orchards. After twenty-five years of priesthood, I chose this country place to continue my story with God. The God who speaks in a tiny whispering sound and the God who opens a passageway through the sea. This journal contains my dreams and visions as I make my way in an enchanted countryside.

My Journal of a Country Priest is not constructed as a story from beginning to end; rather each day, each question, each quote is its own entity. Read the journal one day at a time and know that the considerations and ruminations continue in my life and in yours. I share these days with you for I feel that we are all asking the same questions about life, about love and about God.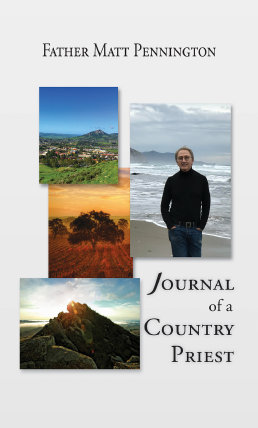 Father Matt Pennington has served the Diocese of Monterey in California since his ordination in 1988. During that period, he has been a pastor for four varied parish communities and has served as a homiletics professor for the Diocese of Monterey's Permanent Diaconate Program. He is currently the pastor of Nativity of Our Lady Catholic Community in San Luis Obispo, California.

An enthusiastic preacher, Father Matt believes in the transformative power of storytelling, music and ritual. He lectures in parishes and schools about liturgy and celebration, has presented at liturgical and catechetical conferences, and has conducted parish missions throughout the United States.
Father Matt Pennington received a Masters of Divinity from Saint John's Seminary in Camarillo, California and a Master of Arts and Letters in Liturgical Studies from Notre Dame University. He writes for "Today's Liturgy" magazine, published by Oregon Catholic Press.
ISBN: 978-1-942497-45-5 (Hardcover)
Pages: 218 /Cover Price: $21.99
Genre: Spirituality/Memoir
Distributor: Ingram




"uplifting the human spirit"
An Imprint of Six Degrees Publishing Group
Go to Home Page
Copyright (c) 2023 Six Degrees Publishing Group/Kenos Press


Author Web Links